2022 Nordstrom Anniversary Sale-Everything You Need To Know
5 min read
I want to start this post off by saying I know the Nordstrom Anniversary Sale can be overwhelming and feel like a bit much on all fronts. With everything going on in the world, do not feel like you need to buy the latest and greatest! I know we all can quickly get caught up on having the trendiest items and something new, but often you can find old pieces in your wardrobe and repurpose them in new and exciting ways. Or even just pick up a new pair of booties and style them over and over again with pieces you already own.
Covering this sale is fun for me as I love looking at what is coming for the next season (fall is by far my favorite time of year) and you all seem to find the try-ons and finds useful from what I have gathered. This post is packed with information as Nordstrom changed a few things last year and have actually made it much easier for everyone to shop from home, preview the sale and save things into your wishlist for a quick checkout (more on this below). If you have any specifics you are looking for coverage wise day of, please leave them in the comments below!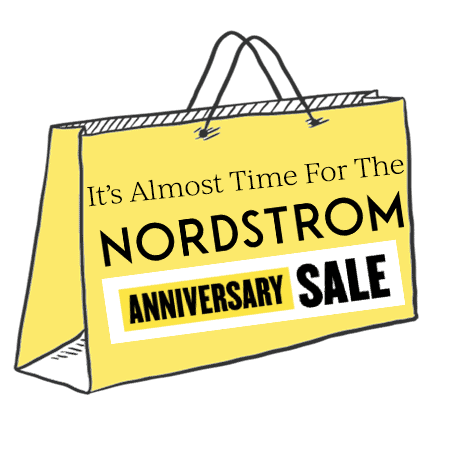 What is the Anniversary Sale?
The Nordstrom Anniversary Sale is the retailers largest yearly sale and one of my favorites to shop. Nordstrom will release the new Fall arrivals at heavily discounted prices from top brands like Madewell, AG Jeans, Vince, The North Face, Top Shop and more! Summer items are often included and a good time to snag a few pieces you may have had your eyes on.
When is the Anniversary Sale?
All cardholders can begin shopping on July 9th followed by the sale being open to the public on July 15th. Depending on your Nordy Cardholder status you can shop as early as July 6th. The sale will end on July 31st with prices going back up on August 1st. Online shopping begins at 12:01am ET.
Sale Preview – Nordstrom now releases an online preview of the sale a week before it begins. Starting June 29th, anyone can preview the sale and save your favorites to a wish list for faster checkout once the sale begins.
It also looks like Nordstrom is giving out random passes for non-cardholders to shop the sale early this year! When my assistant logged into her Nordstrom account she was met with the message stating she had a pass to shop the sale 2 days before public access begins. So definitely be sure to log-in and check what date you can shop.
Not sure what your Nordy Club status is? Check it here!
How do I prepare for the Sale? What about the Nordstrom Credit Card?
If you're a cardholder you'll want to check your Nordy Club status first to see when you can begin shopping. If you're not a cardholder, but would like to become one, you can apply for a Nordstrom credit card here and begin using your card immediately upon approval. If you make a qualifying purchase with your credit card on the same day you're approved, you'll also receive a $60 bonus note that can be used during the sale (this offer ends July 5th). While having a Nordstrom card does have its benefits and grants you early access to shopping the sale, it's not necessary to have one and would only apply if you find it fitting for your circumstances.
However, everyone is able to join the Nordy Club and I encourage you to do so even if you're not interested in getting a Nordstrom credit card. It's free to join and earn points no matter how you pay.
Cardholders can schedule a double rewards day to shop so that you earn double the points for your purchases that day.
Create a game plan!
I find is easiest to shop the sale when you go in with a game plan! Go through your closet and identify items your wardrobe may be missing or items you need to replace and make a list of things you need, items you want, and any potential gifts you may want to purchase for the holidays. You may also want to create a budget to help you stay on track while shopping.
Be sure to check back on the blog for sale updates, my sale picks and reviews. I'll also be covering the sale on my IG account and posting content in the LIKEtoKNOW.it app. Don't forget to add your favorites to your wishlist for quicker checkout.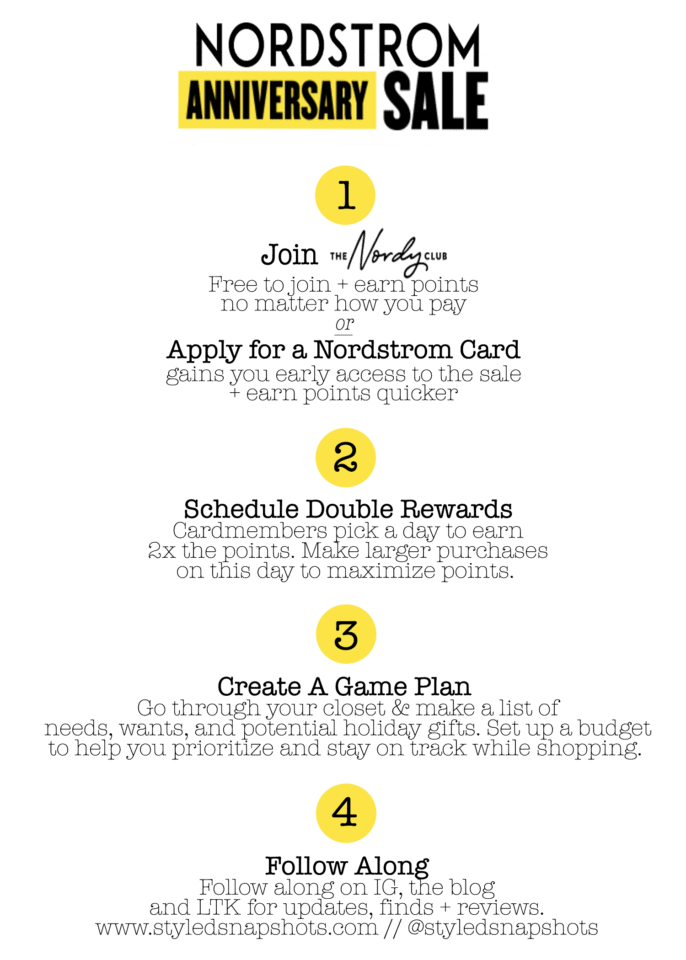 What's included in the sale?
There is so much included in the sale like designer clothing, shoes, beauty products, accessories, kids/baby items and even home goods. This is a great time to stock up on your basics like undergarments or plain t's for layering, purchase new Fall weather clothes, or snag that handbag you've had your eyes on. In addition, the sale always includes great workout gear and tons of work appropriate attire. As travel is slowly picking back up new luggage may be on your list and the sale is a great time to scoop up new luggage at incredible prices.
I also try to cover items for men and children since I know so many of you, like myself, will be shopping for your families. Maybe I can wrangle Matt into his picks for a photo/try-on haul, ha!
Items tend to go quickly, so if theres something you really want I would purchase that first. Nordstrom offers free shipping so you don't have to worry about multiple shipping fees. I feel like a lot of items sold out much quicker last year than the previous years sales. I'm not sure if this was due to lower inventory with COVID, less stock in general, or if more people were shopping the sale. Not all items get restocked and influencers are not updated on any sort of restocks. If something you want is sold out, check back for restocks several times throughout the day. Inventory is always fluctuating as returns are made and added back to inventory.
These were a few of last years Nordstrom sale finds and best sellers. I always do try-on hauls and try to style pieces multiple ways.
In past years I've created a shopping guide based off the sale preview, then a Try-On Haul with everything I purchased, and a blog post of best sellers that were still in stock a few days before the sale ended. You can also check out previous year sale coverage here, here, here, and here for a better idea as to what is typically included in the sale.
Quick Tips!
Items go quickly- so if there is something you really want, I would purchase that first.
If you're unsure of a size, purchase 2 sizes and return the one that doesn't fit. (Nordstrom offers free shipping and returns)
If something you want is sold out, check back for restocks several times throughout the day. Inventory is always fluctuating as returns are made and added back to inventory.
Follow me on IG and LTK for sale updates and exclusive content.
July 5th is the last day to sign up for a Nordstrom Credit card and receive the $60 bonus note.
The sale ends July 31st and prices go up August 1st.