Olivia Rodrigo's Best Style – Where to Buy Olivia Rodrigo Outfits
3 min read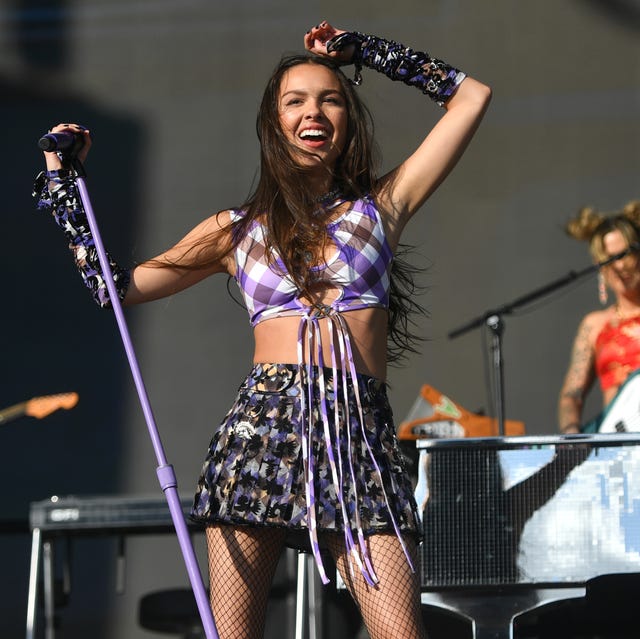 Dave J HoganGetty Images
Okay, so it's no secret that Olivia Rodrigo is one of the biggest stars on the music scene rn. I mean, she's 19 years old and already has three Grammys! But along with her music, her fashion choices are also making an impact. Olivia definitely loves Y2K fashion (the butterflies! the hair clips! the Avril Lavigne vibes!) and she's a clear fan of v tall platform heels and boots. But she's also been embracing some sophisticated red carpet looks like the sparkly, slinky dresses she chose for the Met Gala and the BRIT Awards.
Honestly, Olivia Rodrigo's look is a lot of fun. And that's why we've gone ahead and rounded up some of her best outfits and found several of the *exact* items for you to recreate her looks. But if you don't have that pop superstar bank account (lol relatable), we've also grabbed dupes for some of Olivia's outfits from places like Amazon.
So without further ago, keep scrolling to shop Olivia Rodrigo's best outfits and style moments.
Advertisement – Continue Reading Below
1
Olivia Rodrigo at Glastonbury Festival
2
Olivia Rodrigo at the Met Gala 2022
3
Olivia Rodrigo at the 2022 Met Gala Afterparty
4
Olivia Rodrigo at the 2021 MTV VMAs
5
Olivia Rodrigo at Carbone
The singer was spotted at celeb hotspot Carbone in this eye-catching chainmail dress. It's by Ambush and doesn't appear to be available to buy, but a similarly sheer, sparkly dress is available from Amazon. Olivia also donned a Justine Clenquet choker; the exact one she has isn't available on the website but you can grab a similar one. Don't forget the square-toe platform heels!
7
Olivia Rodrigo at the Olivia Rodrigo: Driving Home 2 U (A Sour Film) Premiere
When it's your own movie premiere, you obviously have to be the best-dressed attendee! And Olivia was, thanks to this outfit from Fancì Club. And lucky you, we found the *exact* items. You can get the Bad Sheep corset top from Fancì Club for $350, while the matching gloves will cost you $150.
8
Olivia Rodrigo on The Late Late Show with James Corden
It's feathery, it's fun, and I am obsessed! Luckily for me (and you), this exact dress is available to shop. It's from Area and it's nearly sold-out, so buy it ASAP. Complete the look with some square-toe platform pumps with an ankle strap.
10
Olivia Rodrigo at the White House
13
Olivia Rodrigo at the BRIT Awards
Olivia Rodrigo rocked a *stunning* sparkly slip dress to the 2022 BRIT awards. It was designed by Alexandre Vauthier and does not appear to be available to buy for us mere mortals. But don't worry, because I found a slinky silver sequin dress that you can buy from Amazon for $78. Olivia opted for a strappy low heel with this look, and you can also grab a similar pair from Amazon.
This content is created and maintained by a third party, and imported onto this page to help users provide their email addresses. You may be able to find more information about this and similar content at piano.io
Advertisement – Continue Reading Below