OMG, Have You Heard – Art Jewelry Forum
8 min read
April 2022, Part 1
Art Jewelry Forum is pleased to share the news that members of our community find noteworthy. Is something missing? The success of this compilation of compelling events, news, and items of interest to the jewelry community depends on YOUR participation. If you're a member of AJF at the Silver level or above, you can add news and ideas to this bi-monthly report by going here. If you aren't a member, but would like to become one, join AJF here.
Listings gathered with assistance from Carrie Yodanis.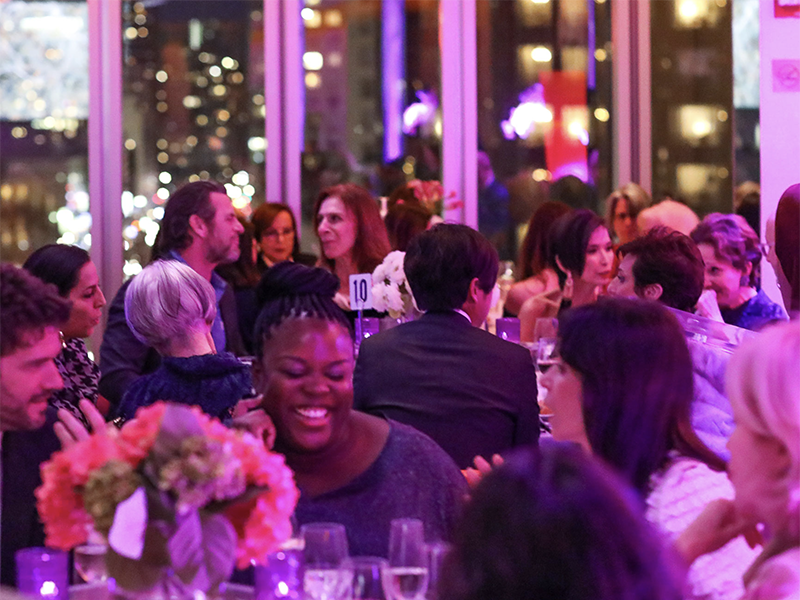 AJF TO BE HONORED AT MAD ABOUT JEWELRY
The MAD About Jewelry Award is presented to luminaries in the field, including artists, collectors, designers, and advocates for jewelry as an art form. It's part of MAD About Jewelry, the Museum of Arts and Design's annual show and sale of one-of-a-kind contemporary jewelry. This year, MAD About Jewelry will honor AJF for 25 years of raising critical attention for contemporary jewelry. AJF has become the leading voice for art jewelry's advancement, serving to establish and elevate jewelry's contributions to the field of art. The event kicks off on April 26, 2022, with the MAD About Jewelry Benefit Preview and Dinner. Enjoy cocktails and first access to the MAD About Jewelry sale followed by dinner celebrating the honorees. For more information about attending the Opening Benefit, click 
here
.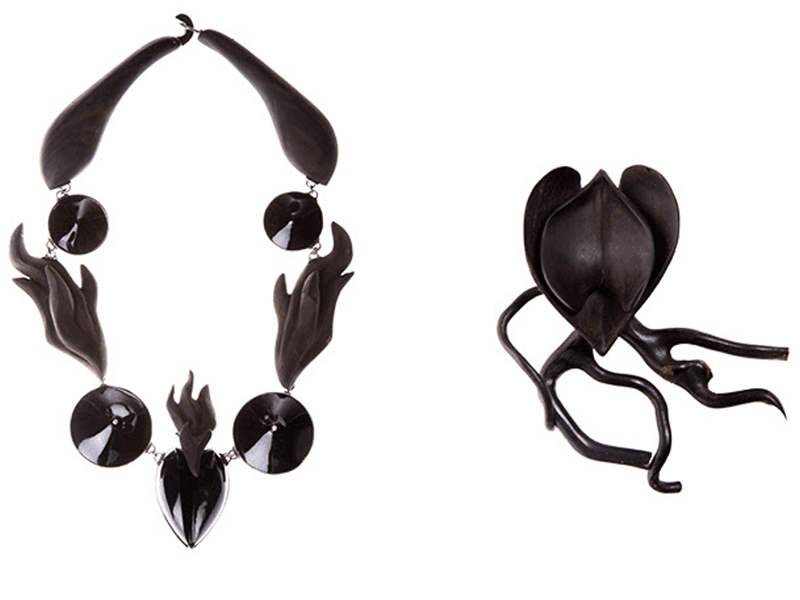 FEEL LIKE SEEING A JEWELRY SHOW?
Find these listings and many, many more on our dedicated exhibition page: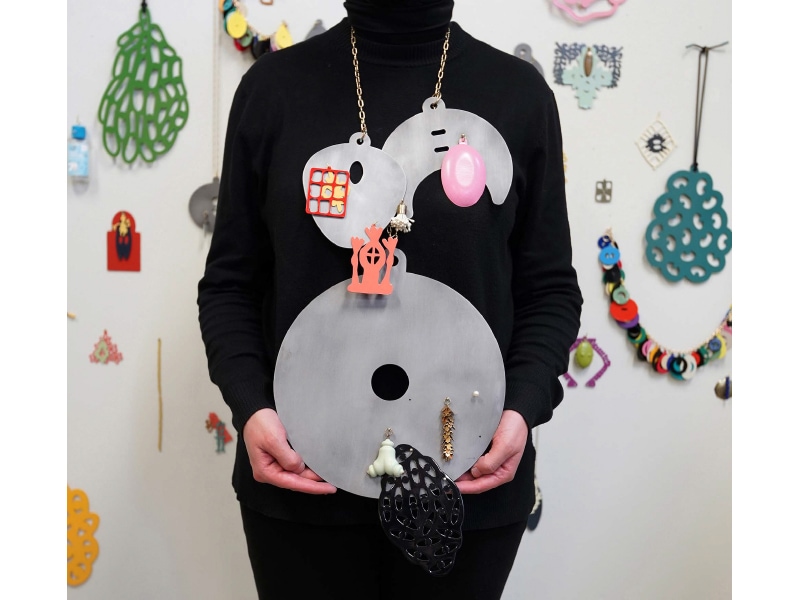 RECORDING OF AJF LIVE WITH ZAHRA ALMAJIDI
If you missed the most recent AJF Live event or want to watch it again, we recorded it, as we record all our AJF Lives. Watch it here.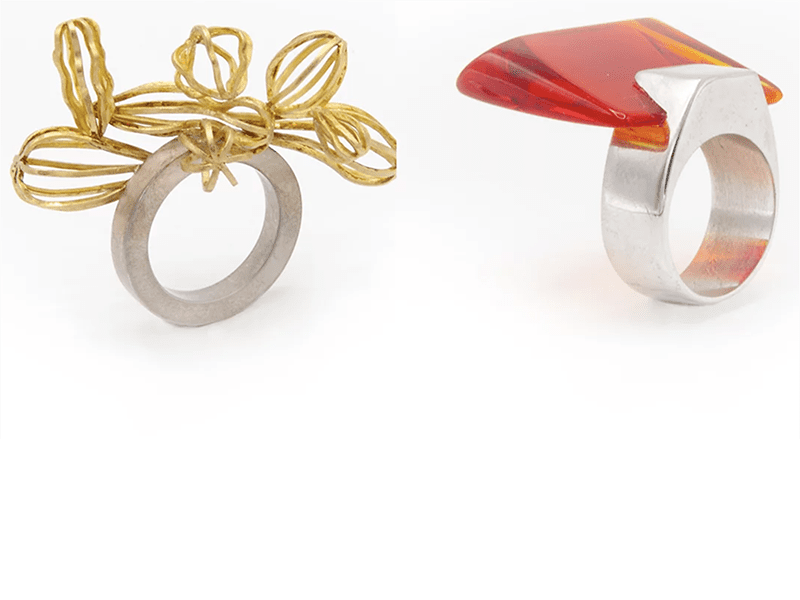 A HEARTY ENDORSEMENT OF THE RINGS! EXHIBITION
Marion Fulk saw Rings!, which just opened at the Metal Museum, in Memphis, TN, US. The show was conceived by Helen Drutt. "It's great!" says Fulk. "An amazing collection of jewelry. Great and diverse work. And the museum is an interesting place, right on the bank of the Mississippi River. Definitely worth a visit." Info.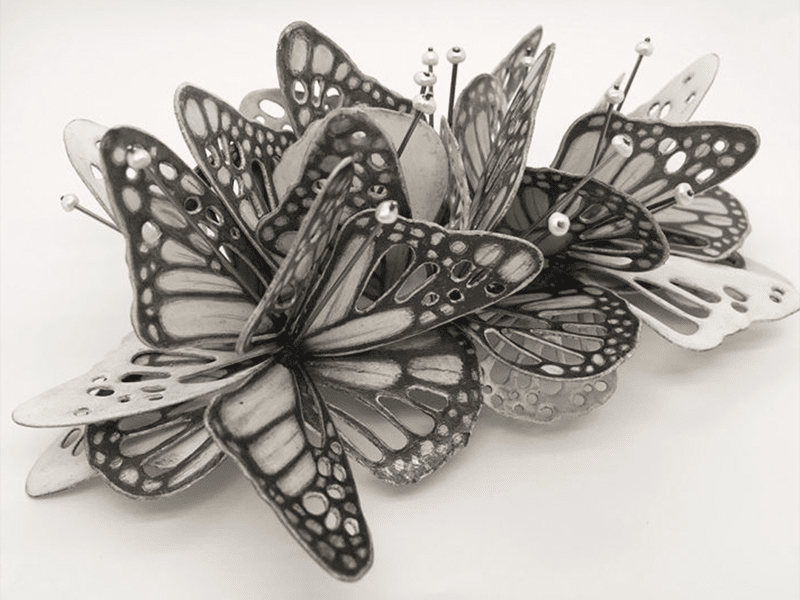 CHECK OUT SAWED, SOLDERED, CONSTRUCTED: THE WORK OF THE HOUSTON METAL ARTS GUILD
This exhibition, at Houston Center for Contemporary Craft, Houston, TX, was juried by Cindi Strauss, Curator of Decorative Arts, Craft, and Design at the Museum of Fine Arts, Houston. It provides a survey of the work of the local metal arts/art jewelry community. Through May 7, 2022. Info.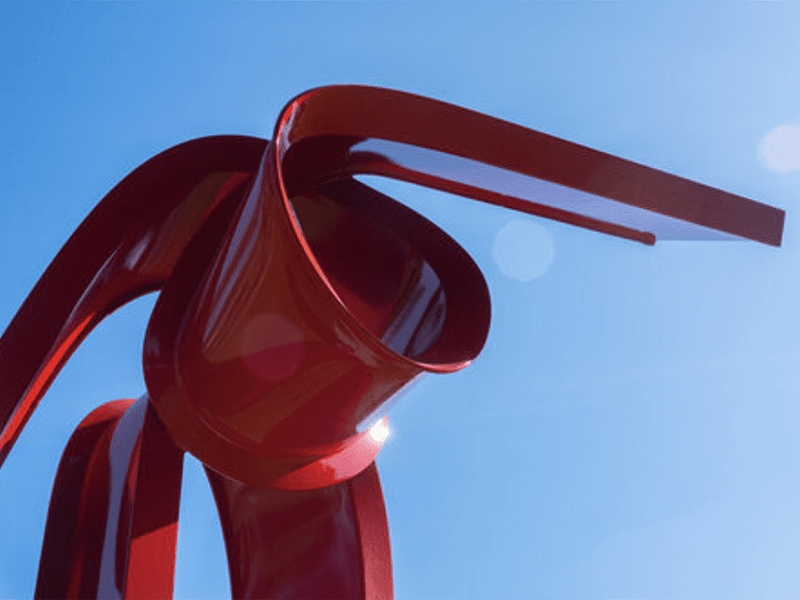 LISA M. BERMAN TAKES ON ADDITIONAL ROLE
Lisa M. Berman accepted the position of chief curator of exhibitions and Sculpture Garden for the Muckenthaler Cultural Center. She will also merchandise the center's retail store, which sells jewelry (among other things). The artists sold in the store keep 70% of sales. For information, email Berman at [email protected]. Berman continues to maintain her gallery, Sculpture To Wear.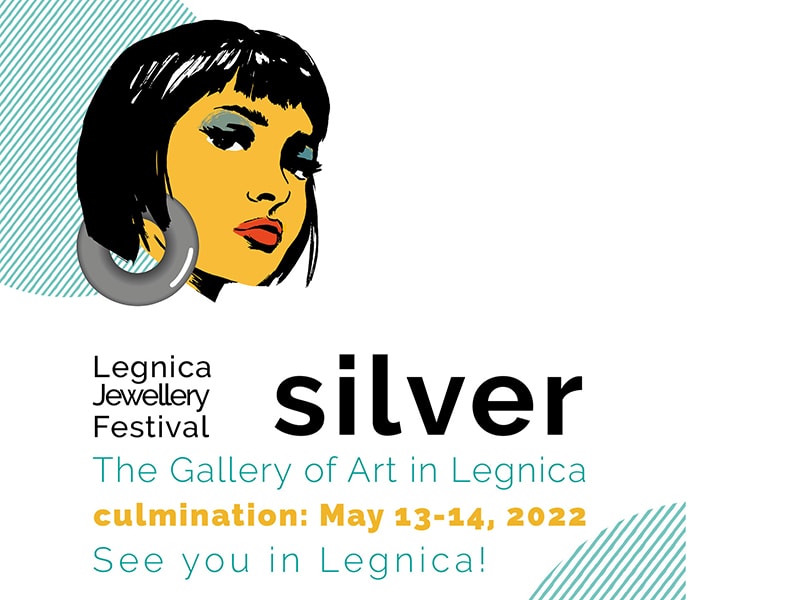 LEGNICA JEWELLERY FESTIVAL SILVER TO TAKE PLACE NEXT MONTH
The next edition of the Legnica Jewellery Festival SILVER will take place in May 2022. The most important event of the festival is the 30th International Jewellery Competition TOUCH. The festival also features numerous individual and collective exhibitions. Within the exhibition series About the Artists, Silver Schools and Debuts, the organizers present both well-known artists with a rich artistic output and students of art colleges studying jewelry design and creation. The culmination of the event will take place in Legnica, Poland, on May 13–14, 2022.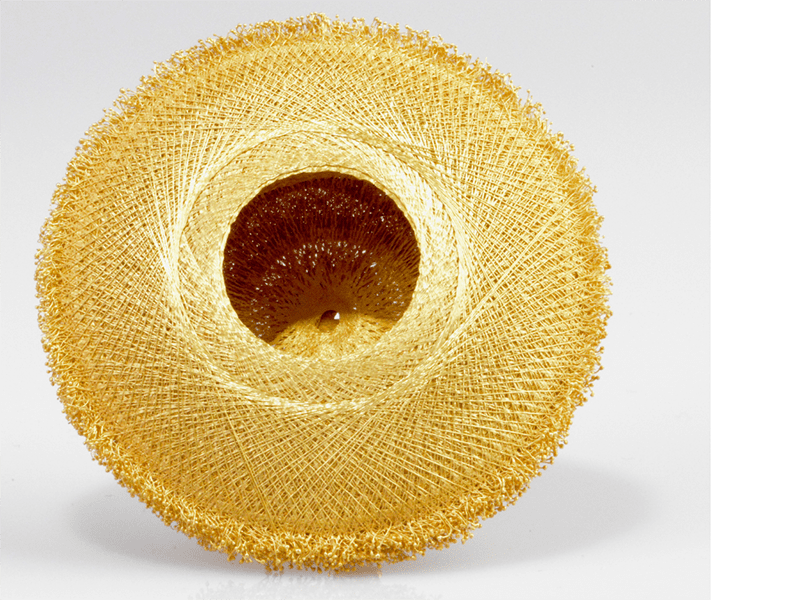 NEW BIENNIAL: ORIZZONTE D'AUTORE, MAY 7–JULY 24, 2022
Conceived by Thereza Pedrosa (the owner of the eponymous gallery), the biennial will include a group exhibition, a Giampaolo Babetto retrospective, a lifetime achievement award, book presentations, an artist's talk by Giovanni Corvaja, a guided tour by Eliana Negroni, and several conferences. At the Civic Museum of Asolo, in Italy. Info on Instagram; museum website.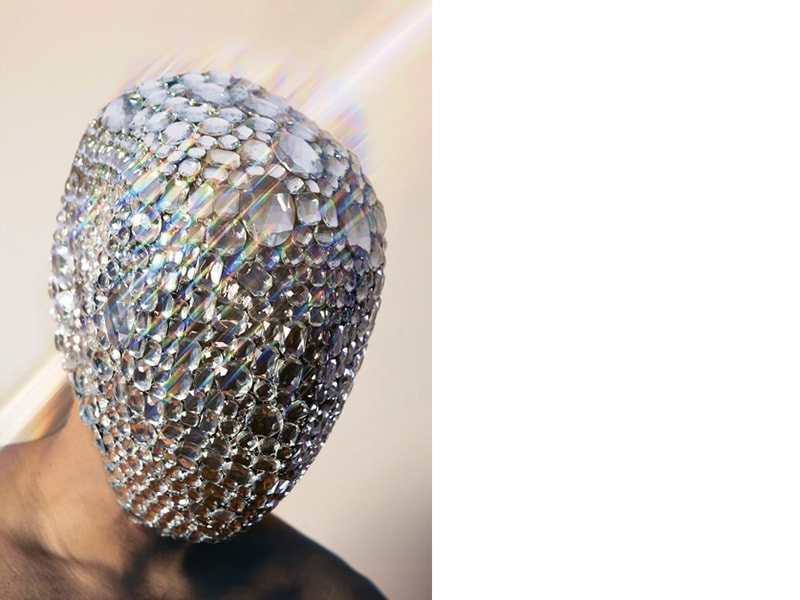 JEWEL.ROTTERDAM WILL TAKE PLACE MAY 20–22, 2022
30 Rotterdam-based jewelry designers and students will show during the Art Rotterdam Week at OBJECT in the HAKA-building in the M4H section. See unique handmade pieces, classic, and independent work in highly diverse styles with a rich variety of materials. For the occasion, everyone has designed a piece for men. In conjunction, lectures about jewelry for men will be given at Phoebus•Rotterdam by Suzanne van Leeuwen (jewelry conservator at the Rijksmuseum Amsterdam) and fashion designer Gary Symor (on May 19); and Liesbeth den Besten and goldsmith Iwan Klein, who specializes in signet rings (on May 21). The lectures start at 7:45 p.m. and are free but you must register in advance. More info. Questions? Email AJF member Karin van Paassen.
92Y JEWELRY RESIDENCY PROGRAM
This juried residency allows cutting-edge, emerging, and established jewelry artists to develop their work in the multifaceted New York City art scene. For a month during the summer, the Residency provides the opportunity for an international artist with a studio-based practice to develop a new body of work or complete research while engaging with NYC's cultural community. Deadline: April 15, 2022. Info.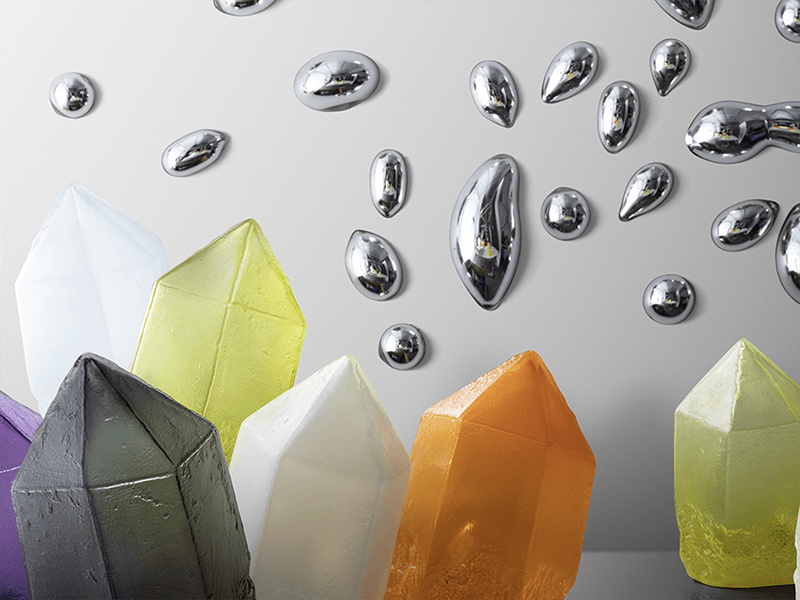 RUTH SNYDERMAN PRAISES THREE SHOWS AT R. & CO.
They are Katie Stout: Klown Town, Zanini De Zanine: The Sound of Wood, and Jeff Zimmerman: New Work. "Each artist has work that is so refreshing," says Snyderman, the owner of the former gallery Snyderman-Works. "Katie Stout incorporates bronze with her fanciful ceramic sculptures. Zanini De Zanine, a Brazilian artist, uses the finest woods in his exquisite sculptural furniture. Jeff Zimmerman, a glass artist, has a huge glass installation of hanging lights, as well as many other sculptures." Info.
FRITZ MAIERHOFER RECOMMENDS MARGIT HART: BEYOND
"It gives a good impetuous [idea] how jewelry can be looked at," says Maierhofer of the exhibition. From the artist's statement: "Beyond as an expanse that goes beyond the current horizon. As a way into what is still to be explored and surprising—to what does not yet exist and what I do not yet know. Always open and beyond ideas and expectations." At V&V Gallery, in Vienna, Austria, through May 10, 2022. Info.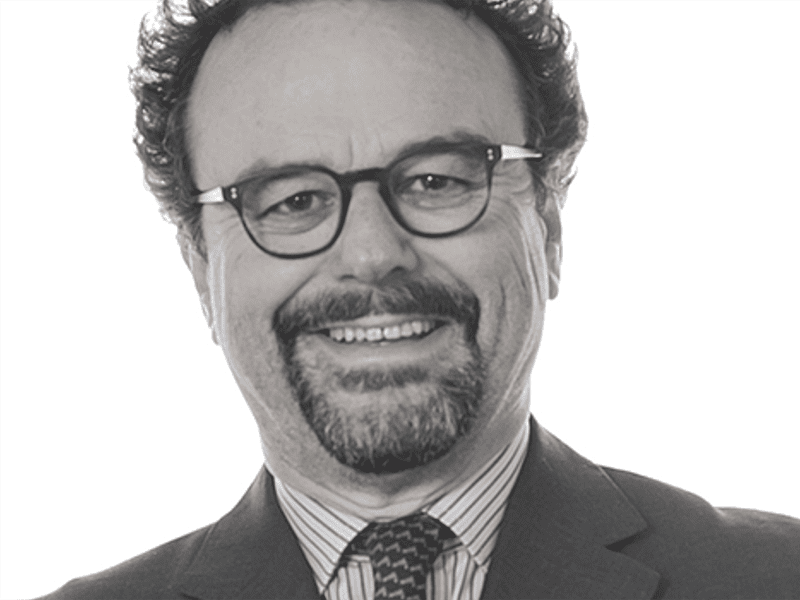 DAVID BENNETT INTERVIEWED ON THE JEWELRY JOURNEY
Nicknamed the "100-carat man" for selling some of the most expensive jewels in history, the former Worldwide Chairman of Sotheby's Jewelry Division reflects on his 42 years at the auction house. Listen to the podcast here.
BRIAN FLEETWOOD WROTE ABOUT SANTA FE INDIAN MARKET FOR HYPERALLERGIC
"Storytelling is central in much of Native American art," says Fleetwood, "and the work being produced by Indigenous jewelers is no exception. Native jewelry, whether based in historical practice, contemporary innovation, or somewhere in between, carries the identities and histories of the artists and craftspeople who created it; jewelry allows us to carry those stories with us and on us." Read the full article.
NEW AID ORGANIZATION: ARTIST REFUGEE TRANSITION
ART matches displaced creatives in the jewelry industry with studio space, temporary housing, employment, and community. Do you have extra space in your workshop or home? Are you able to offer employment, guidance, or community to a displaced artist? Go here to either request assistance or offer it.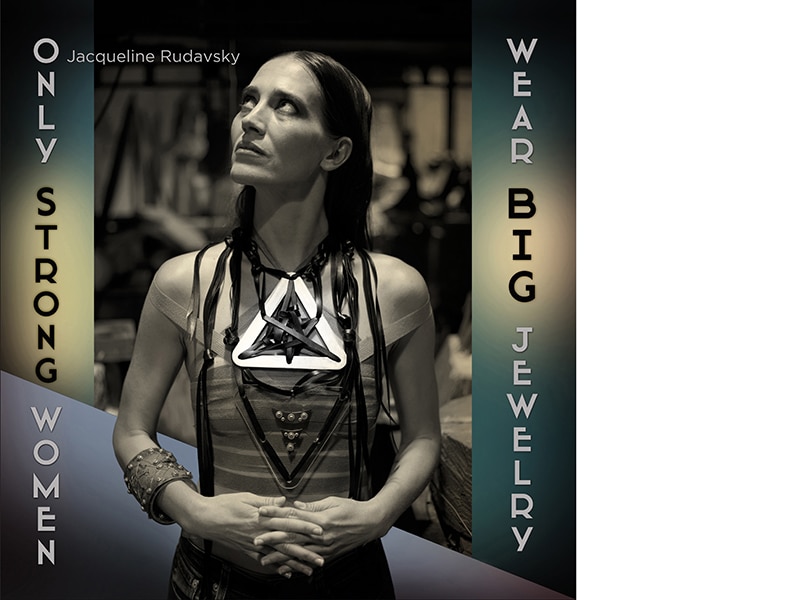 ONLY STRONG WOMEN WEAR BIG JEWELRY: BOOK LAUNCH AND EXHIBITION
This project features prominent women of Slovakian descent: Politicians, activists, producers, actresses, photographers, etc., wearing one-of-a-kind jewelry by the artist Jacqueline Rudavsky. With photos by her husband, Ondrej Rudavsky. Each of these trailblazers describes their dynamics, personal presentation, and relationship to bold jewelry. Lisa M. Berman, of Sculpture To Wear Gallery, is of Slovakian descent (Babik) and wrote the introductory essay. All of the works are available for sale now. Acquisitions help the exhibition to travel internationally. Collectors are requested to let the work travel with the show and will receive credit as the owner in the self-published book, which is available for pre-order now; $100, plus international shipping costs. Book launch and exhibition June 25, 2022, at the Magic Garden Museum, in Slovakia. Info; link to book.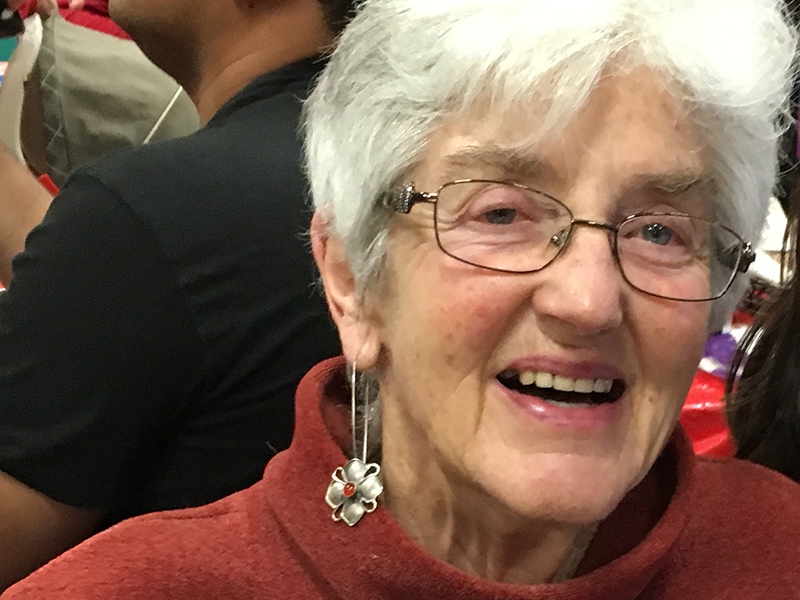 OBITUARY: JENNIFER CROSS GANS
Jennifer Cross Gans was a collector of jewelry, and a generous supporter of the arts in many different ways. She became a jewelry artist herself, too. Starting in 2010, Gans was part of the editorial committee that oversaw AJF's newsletter and blog. She wrote almost a dozen articles for Art Jewelry Forum. Read her obituary on AJF.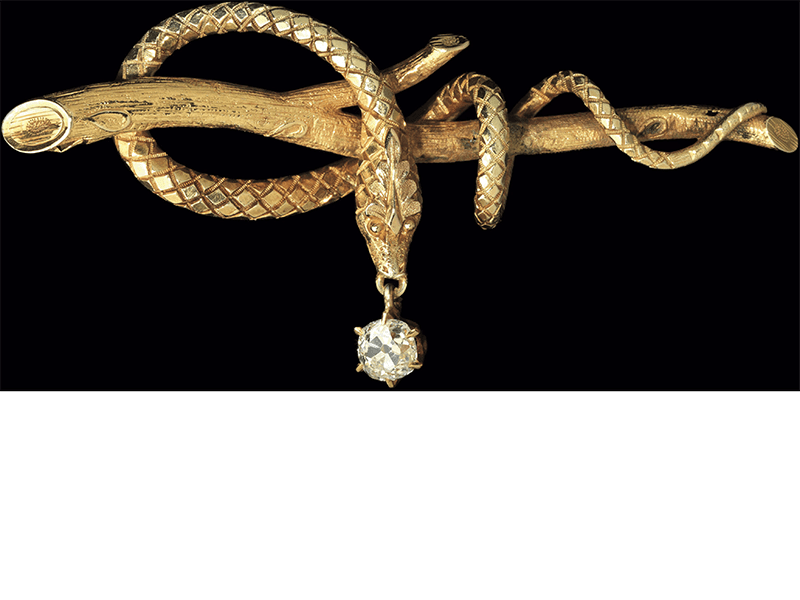 OBITUARY: FORMER SECRETARY OF STATE MADELINE ALBRIGHT
Brooches were her diplomatic signature. It all started with the one shown here. After she criticized Saddam Hussein, his poet-in-residence called her "an unparalleled serpent." Soon after, when preparing to meet with Iraqi officials, Albright decided to make a statement by wearing a snake pin. This mode of communication was new to her, but the message was as old as the American Revolution: Don't Tread on Me! See and learn about all of Albright's pins here.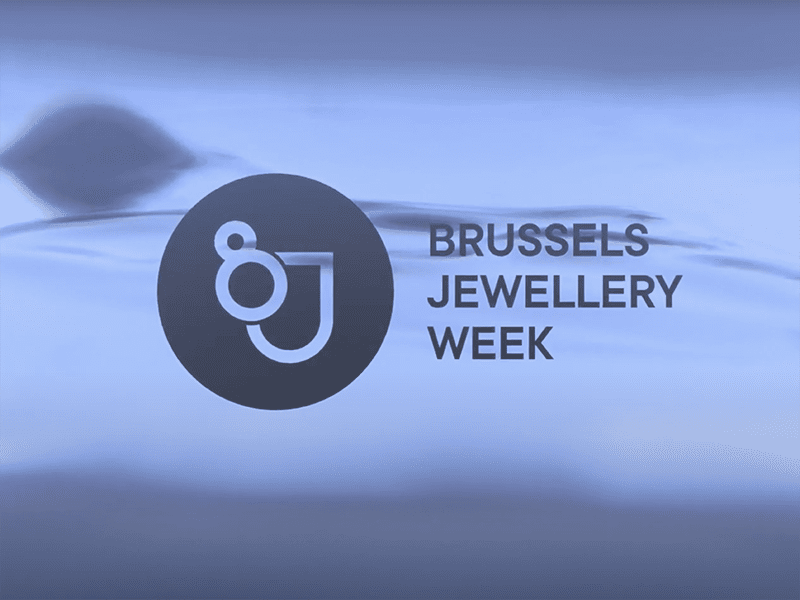 BRUSSELS JEWELLERY WEEK: APRIL 28–MAY 8, 2022
The European capital hosts its first jewelry week: 10 days of exhibitions, awards, conferences, and workshops. Info.
FLORENCE JEWELLERY WEEK: APRIL 28–MAY 2, 2022
Devoted to the complex relationship between artistic research, craftsmanship, design, and new technologies, with exhibitions, lectures, and side events. Information.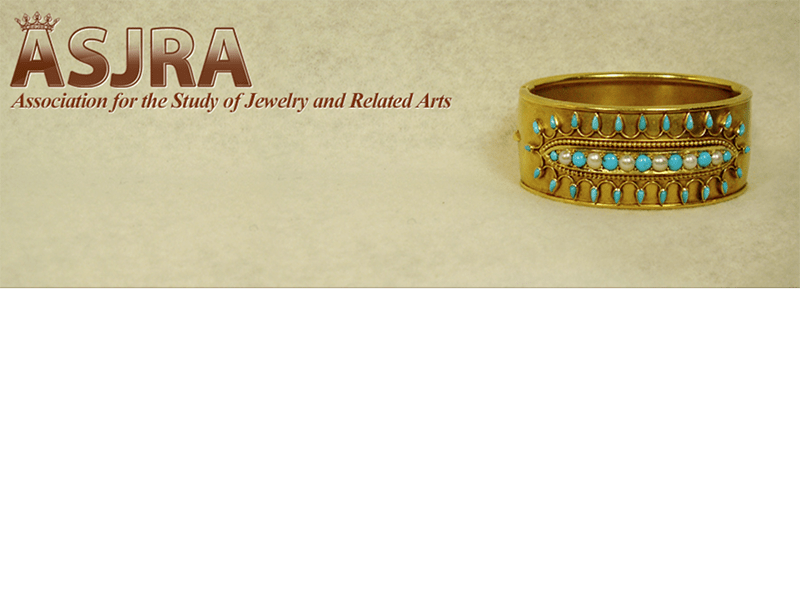 ASJRA CONFERENCE: MAY 21–22, 2022
The speakers at the annual conference include curators, historians, gemologists, and jewelry artists, all offering perspectives from diverse areas of the jewelry world. Held virtually. Info.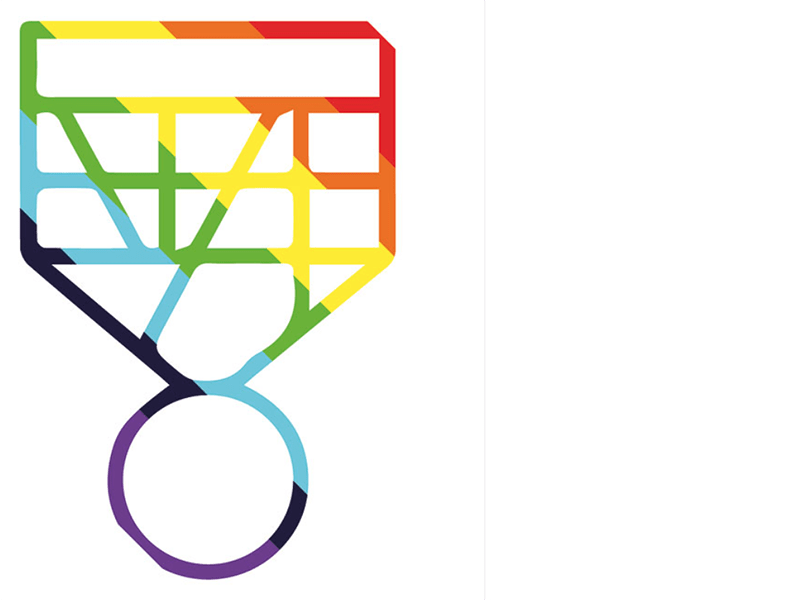 FOLLOW YOUR BLISS SYMPOSIUM: MAY 26-29, 2022
 The Haxthäuserhof Schmucksymposium, formerly called Zimmerhof, seeks to look "openly into the wide scope of jewelry-, product-, and object-making and discover the different positions, from the artistic expression through unique pieces as well as serial production." Info.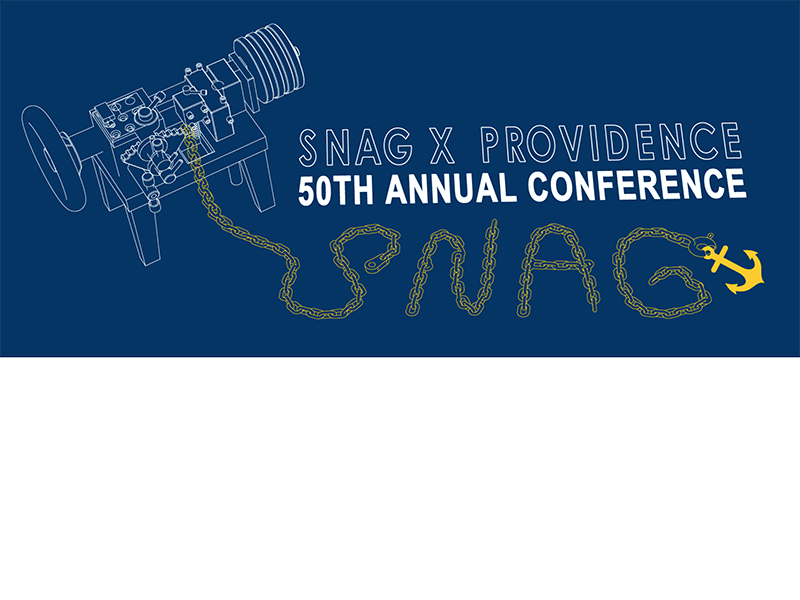 SNAG x PROVIDENCE: JUNE 1–4, 2022
The Society of North American Goldsmiths' 50th annual conference will take place in Providence, RI. Info.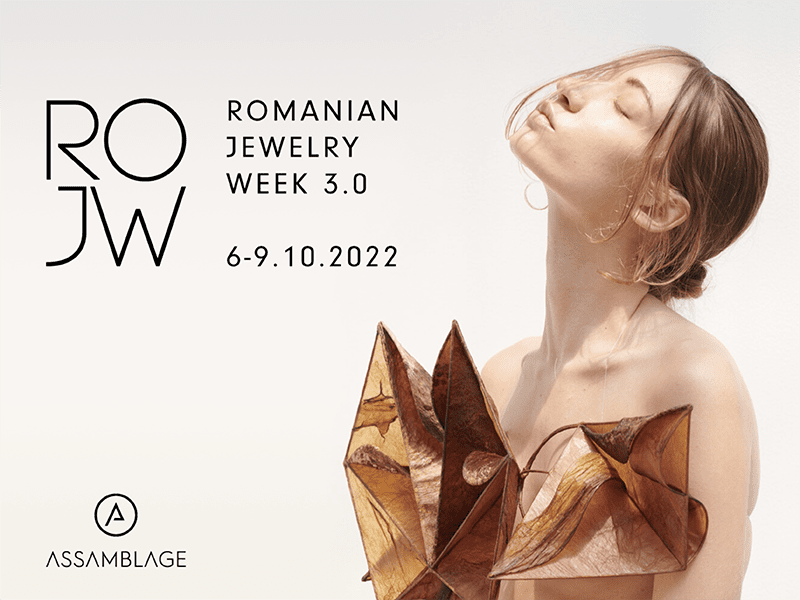 ROMANIAN JEWELRY WEEK: OCTOBER 6–9, 2022
Applications are now open to designers in Romania and worldwide—emerging as well as established artists. Deadline: June 17, 2022. Learn more.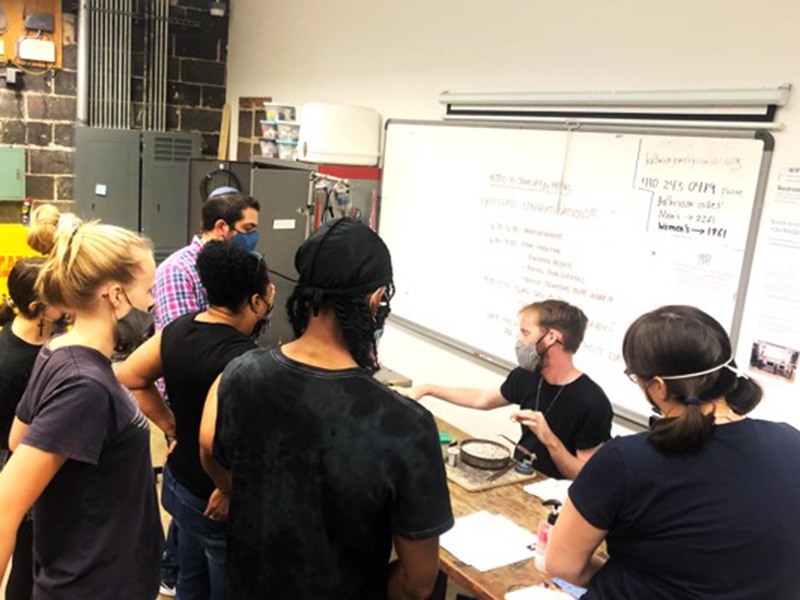 TEACHING FELLOWSHIP POSITION OPEN AT BALTIMORE JEWELRY CENTER
The BJC is offering one three-year teaching fellowship. In addition to gaining teaching experience, the selected fellow will develop pedagogical skills, build leadership experience, and play an influential part of a vibrant community. Applicants should have an MFA in metals and/or jewelry, or a BFA in metals and/or jewelry with work experience. Some prior teaching experience is highly preferred. Location: Baltimore, MD. Application deadline: April 15, 2022 (decision by May 31). Job start date: late August 2022.  Info.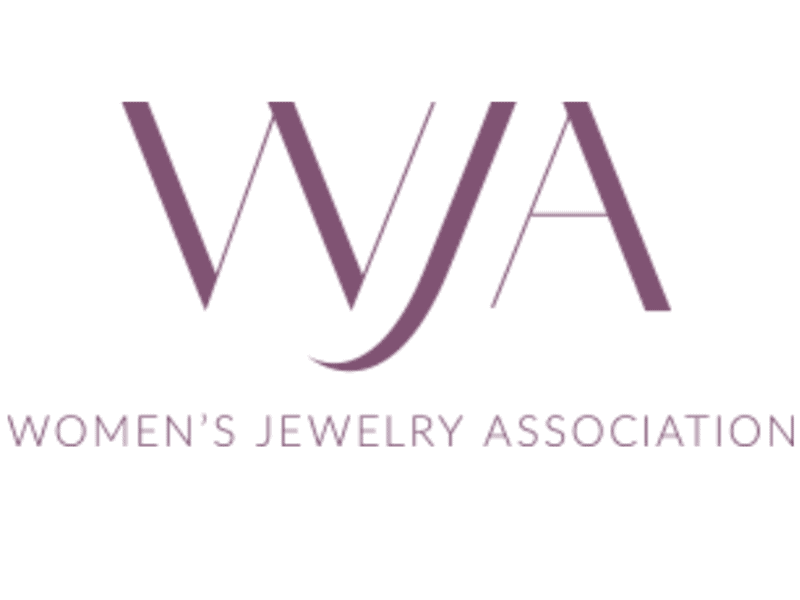 WOMEN'S JEWELRY ASSOCIATION OFFERS SCHOLARSHIPS
You can apply for: (1) WJA Diversity Scholarships for GIA Education. (2) The Cindy Edelstein Jewelry Design Scholarship, $5,000. (3) The WJA-Gabriel Love Foundation Student Scholarship, $5,000 . (4) WJA Student Scholarships, $1,000 to $7,000. Application deadline: April 30, 2022. Info.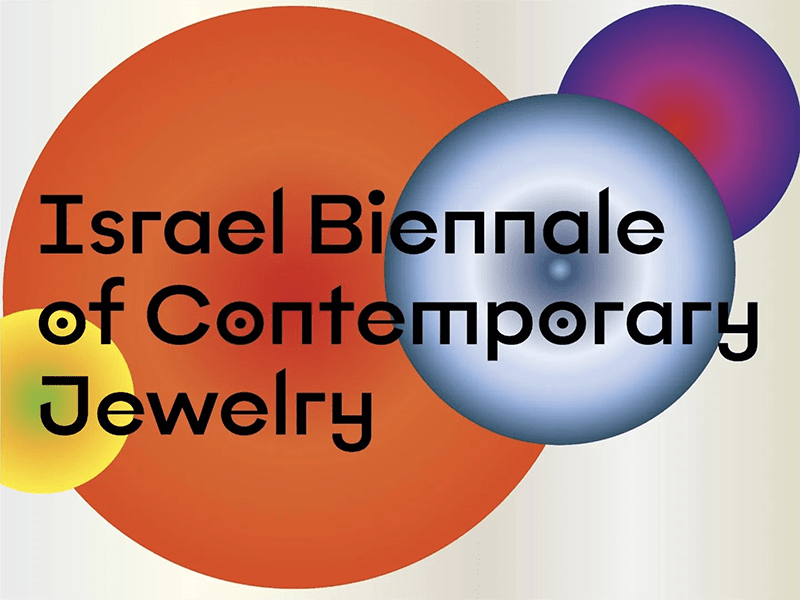 OPEN CALL: ISRAEL BIENNALE OF CONTEMPORARY JEWELRY
Open to anyone: professional, studying, emerging artists working in the field of jewelry, all countries and nationalities. Theme: Colorful Recovery. "After a long period of uncertainty, insecurity, fear, and sometimes even despair, one begins to see the light at the end of the tunnel. It's time to add color and joy to our lives." Application deadline: June 23, 2022. Info.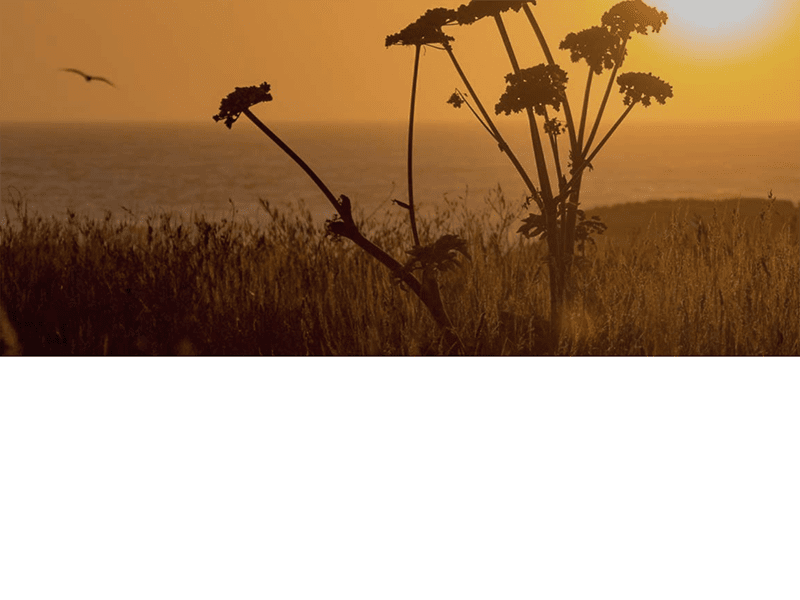 RESIDENCY/RETREAT AT MENDOCINO ART CENTER
In addition to studio space and furnished studio apartments, these programs at the secluded art center on the rural Northern California coast provide the freedom to develop at one's own pace and the opportunity for interaction with other disciplines. Studios in fine art, jewelry/metal arts, and ceramics. Application deadline: April 8, 2020. Info.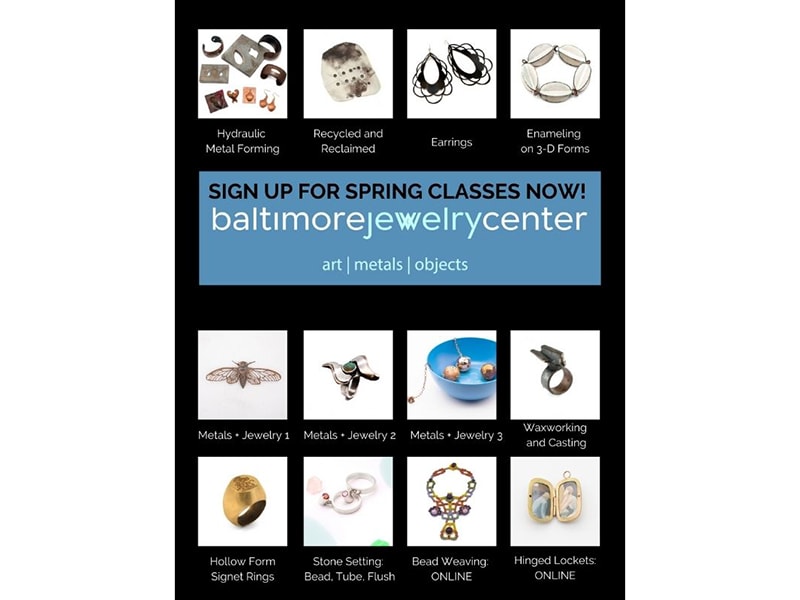 SPRING CLASSES AT BALTIMORE JEWELRY CENTER 
Stretch your creative muscles this spring and take a class with the Baltimore Jewelry Center. The Spring Session course listings are live on their website and available for purchase. Spring classes start April 11 and run through the end of June. Don't miss the online classes for folks living outside the Baltimore region, too!